making yesterday's tomorrows today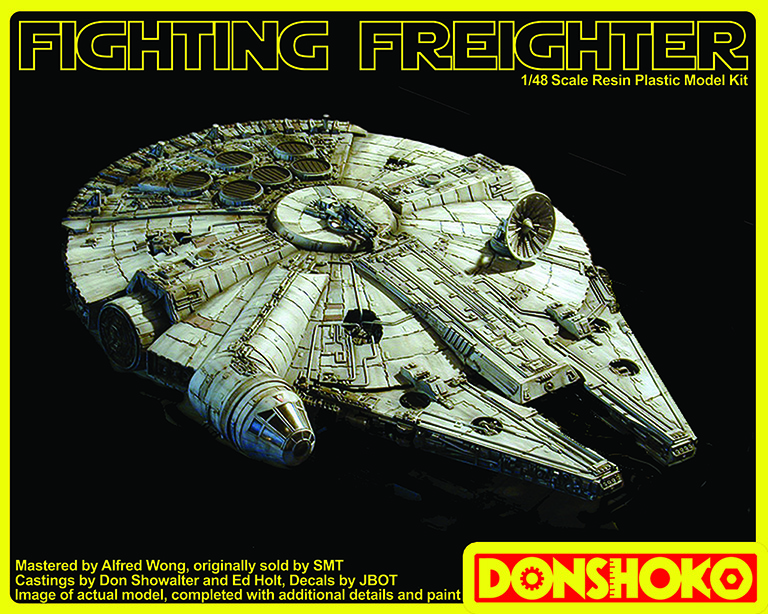 This model was originally mastered by Alfred Wong and offered for sale by Scale Model Technologies (SMT) in 2003. It's 1/48 scale and measures about 28" long by 20" wide. It includes hollow, rotocast pieces (the main body halves, center tunnels and escape pods) and clear parts. A landing gear set was optional, though rarely included.

Unfortunately, SMT received a Cease and Desist order and was forced to discontinue their lineup of Star Wars kits, including this one. Some kits were produced and sold, however, though the number is unknown. I've read unconfirmed speculation that the reason for the Cease and Desist order came about due to the impending release of a large, die-cast Falcon produced by a company called Code 3.

The master pattern parts for the kit were obtained by Mike Tait and, in 2009, a run of 20-25 kits was sold under the name modelrealms. I purchased the molds and masters in the summer of 2010 and tinkered with them for a few years before deciding to produce a few kits.

Shown below is a completed kit, built by Alfred Wong and owned by Tobias Richter (images used by permission). It includes the rare landing gear option as well as extra detailing and lighting that are not part of the kit as sold. I think this is an excellent build-up and really shows what a fantastic display piece can be produced at the hands of a skilled modeler. The general shape of the ship seems closer to the 5' model seen in the first Star Wars film, with the slightly thicker, more curved elevation of the hull shape. The detailing, however, appears more like that of the 32" model built for Empire.
Shown below are the parts of the current offering of the kit, produced using the original masters. The parts images are representative of a typical kit, not any specific one being offered for sale. The kit includes 135 parts, decals, a printed decal placement guide and instructions. The landing gear set is not being offered at this time, sorry. It should be mentioned that this is an old-style resin garage kit, not similar to many being produced today which are often made using computer-aided-design-produced pieces. As such, this model will require considerable cleanup and hand-fitting of parts before and during assembly and should probably be attempted only by someone highly skilled with these type of kits.
$500.00, which includes shipping anywhere in the continental U.S. If you reside outside the CONUS, please contact me for a shipping quote.
If you wish to use a check or money order, please contact me at
dbs@donshoko.com